Every time a butt scoot fails, an angels dies ...
and the terrorists win. - Anonymous
Literally
everyone
has spoken (ad nauseam) on the subject of this past Saturday night's Werdum v. Overeem bout. My mom contends that not all fights have to be exciting, but my dad feels the fighters really let down the MMA fans by putting on bad performances. So, much can be and has already been said by the MMA media, so we will say very little.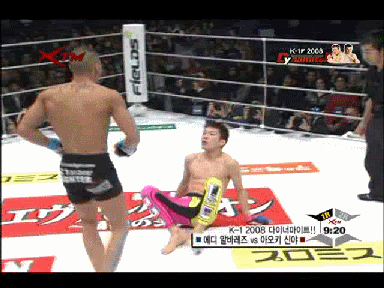 If it's good enough for Aoki, it's goo enough for us.
This was an awkward fight, but that is what happens when you pit kickboxer against grappler (specifically BJJ'er). Still, it seemed to us the fighters did their best to win and that's all we can expect.
Werdum has to be disappointed that he had no solution for getting this fight to the ground. He shot seemingly telegraphed doubles, he sat down a lot, faked being knocked down (in order to pull guard) and did a lot of butt scooting. He even did some begging and pleading. If any of that stuff had been effective, I would have worn my Shoyoroll to the office today. But, none of it was. Ultimately, it was a valiant attempt, but in the end Werdum suffered the same fate as many other BJJ-based fighters. Like Damien Maia, Shinya Aoki, Shaolin (Vitor Ribeiro), Vagner Rocha (last week) and many others, he lacked the takedown skills to get the fight to the ground, which nullified his primary skill (submissions).
As for Allistair, he didn't shine but he clearly won. A couple times, it seemed he may have been able to score the KO, but he held back. No complaints here though. He was winning the fight and opening up would have have been a risk.